Plugins linking to this thread: (hide)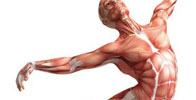 VorleX Muscle System 2.01 PRO
VorleX is a toolset for setting up a full body muscle rig. With VorleX 3.0 still in development, VorleX 2.01 has been made available for free. Have a look at the
VorleX Muscle System Short Reel
for a preview of the upcoming version 3.0 — for videos demonstrating Version 2.01, see the
VorleX
group on vimeo.
From the si-community thread linked below:
The system is far superior to other similar products. The features and functions: Simple construction Classic control by means of 3 nulls Easy setup Incredible performance Realistic optimized dynamics The ability of symmetric duplication Unique skinning algorithm Skin sliding effect
local backup: VorleXMuscleSystem2PRO.xsiaddon VorleXMuscleSystem2PRO.zip (supplementary files - docs and samples)
telepatam

Posts: 19
Joined: 09 Dec 2010, 17:13
Oh, thank you. I didn't realize the documentation was that extensive.
---------------------
what is dead may never die

---
Hirazi Blue

Administrator
Posts: 4965
Joined: 04 Jun 2009, 12:15
Seriously generous move. Much appreciated...

...
---
AbedSHP

Posts: 2
Joined: 01 Mar 2014, 18:10
Location: Talesh-Iran
doesn't work at linux.

anyway thank you.
---
druitre

Posts: 465
Joined: 25 Jun 2009, 23:35
Thank you! Much appreciated.
---
antsjoe

Posts: 23
Joined: 09 Jun 2009, 00:12
Thank You very much for making VMS available to SI community/users.

aj
---
Caveman

Posts: 211
Joined: 12 Feb 2011, 12:38
Is it just me or this doesn't update instantly. I have to keep switching frames to see the changes I have made. According to the help file staying on frame 2 would show the results instantly which apparently is not the case with me.

To everyone saying thanks, did it work on your machines? Which version of XSI does it support. I have tested it on both 2014 SP2 and 2015 SP1.
---