Plugins linking to this thread: (hide)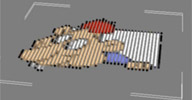 Emit from Points as Dots
aka »ICE LED Compound«. An easy-to-use compound which converts an animated or static texture to a colored point cloud grid, using 1 point per texture pixel. Options offered include a 2-color mode with threshold, various point shapes, using image alpha.
Available video material:
Introduction part 1
and
part 2
.

Show related plugins:
PixelParticles
local backup: Emi from Points as Dots.xsicompound
Janosch

Posts: 10
Joined: 04 Jul 2010, 16:44
Location: Dinslaken, Germany
You do not have the required permissions to view the files attached to this post.
Last edited by
Janosch
on 30 Jul 2012, 05:36, edited 2 times in total.
---
owei

Administrator
Posts: 826
Joined: 03 Jun 2009, 17:25
Location: Siegen/Germany
Hey Janosch!

Comes handy and thanks for sharing..!!

cheers,
oli
---
Boris

Posts: 67
Joined: 25 May 2012, 16:35
Location: R&M
Thank you very much Janosch !

Oops ,something went wrong

---
angelous4x

Posts: 133
Joined: 06 Nov 2011, 05:24
Location: new York
this is awesome, thanks for the share.
---