Plugins linking to this thread: (hide)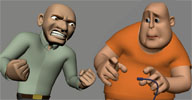 Cartoon Rigs for Softimage
On his website, CJ shares two cartoon rigs, Mark and Bob, ready to animate using a common synoptic view with facial controls. The two download pages linked below include video demos of the rigs.
Some new rigs (Jenny & Gene) appear to be in the works. All of CJ's rigs are shared under the creative commons
Attribution-NonCommercial-ShareAlike
license.
local backup: rigs.zip
lizardj

Posts: 2
Joined: 17 Nov 2011, 01:17
---